Collaborative Brilliance with Clancy Brown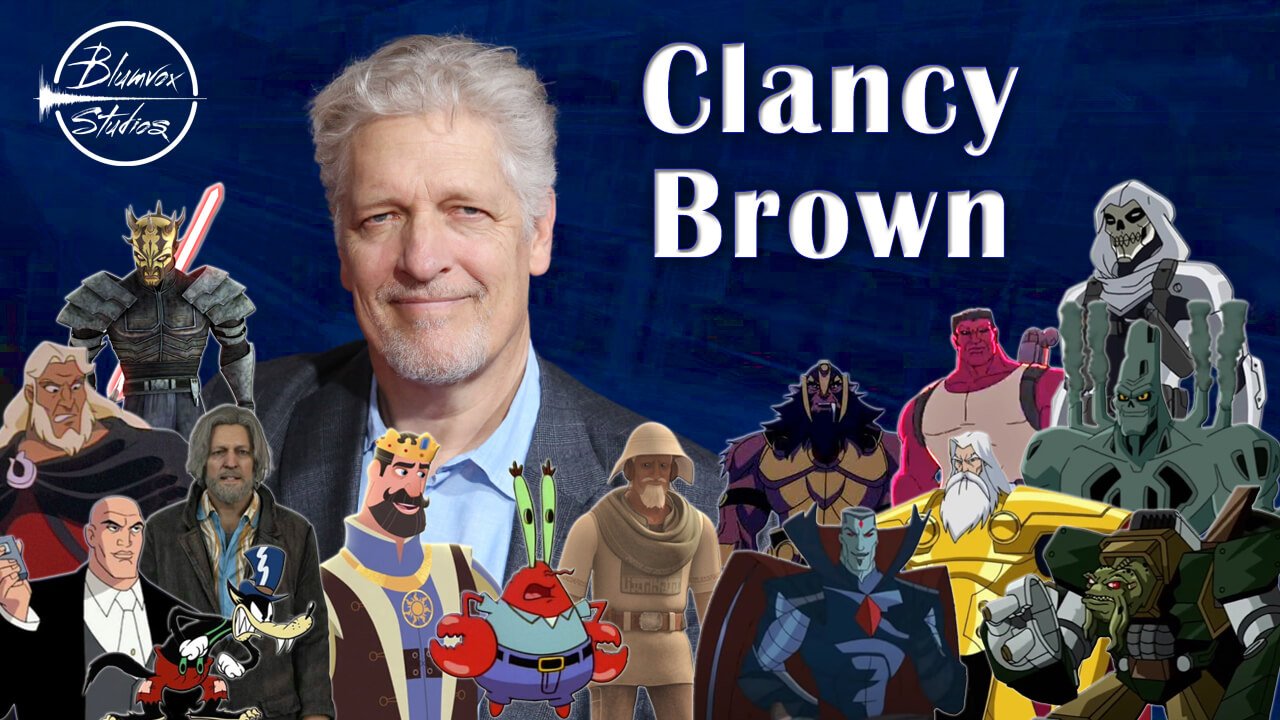 Clancy Brown has had a successful on-camera career, but he continues to put himself in rooms with people like me, so during Class 78 at Blumvox Studios I asked him a few questions about Voiceover and what he likes most about being on this side of the entertainment industry.
What is it about Voiceover that draws you?
They're the best actors! I've seen more on-camera people blow it in a recording room than I've seen the other way around. Voice acting is the freest you'll ever be, because there's not a lot of other people around. There's no one touching you, there's no one walking around in the background with "a stake in it", whispering in other people's ears.
With live action you get to use your whole instrument and that's great, but there's nothing so specific and so freeing as being a Voice Actor. It's amazing to watch actors like Dee Bradley Baker and Tom Kenny on the mic too – guys that can manipulate their voice to be any character. It's magical.
AND you can do it at any age!
What was that transition like for you initially?
Well I was always a huge fan of animation, and animation was in a resurgence at the time. Real quality animation, like Gargoyles and Animaniacs and the new stuff that was driven by Spielberg. They weren't really looking for the usual suspects. Frank Welker was there, and Rob Paulson was already in the Rolodex too, but they were also trying to find other people that were interested.
There were a lot of us doing on-camera that were interested! I was particularly interested because my daughter had just been born and I was looking for ways to stay in town. So I went into it and boy, I just fell in love with it the second I saw it! I mean, as soon as you see somebody like Jim Cummings work, it's just so much fun.
I think I also got work because I was such a good audience. I just would laugh my ass off the whole time, AND I got a chance to learn on the job.
Technically speaking Voice Acting requires a different skillset, including working the mic etc. Was that a natural transition for you?
No! I got my hand slapped a few times, for not staying on the mic, cause I would naturally just turn and talk to the other actor! I think because there were enough of us there that were making that same mistake, it was ok.
I would bury myself in the script pretty much so that I could listen to what was going on too, so another big problem was finding the gap, so that I wasn't jumping on somebody's line. I had trouble with making room, but eventually you learn.
And here you are with Spongebob in it's 14th Season! How do you keep your character fresh after 24 years?
When we started out it was a very visual process. Steve Hillenburg and Derek Drymon were storyboard guys. They'd write the storyboard and the jokes were visual. It wasn't a word show, and that meant that we had to imagine whatever physicality the characters were going through. Nowadays we get regular scripts, although it's still a very visual show.
We've been at it long enough now that we know what we're doing with the characters. We'll go off-script every now and then and brighten it up, or cut down the words. For Mr. Krabs I look for extra syllables I can add in, things that can make him angrier. We try to find a funny spin on whatever is going on.
Some of the best scripts are rhythmic, and there's all sorts of poetic tricks available in that. So we look for those and that keeps us going too. The more talented the writer, the fresher it always is.
How have you managed to maintain such a grounded perspective, rooted in decency, when it's not necessarily the norm in certain parts of this business?
Well, most everybody in there is better than me. I'm always in awe of Voice Actors. I'm in awe of you Steve! You can do amazing things with your voice. And Dee, and Tom. And then people show up like Eric Bauza and all of a sudden here's this new kid that can wipe the floor with you. I think we'd better be humble cause there's always other people better than us out there.
AND the other reason I stay grounded is… it's just so much fun!
In the on-camera world there's a lot of people with too much at stake. Too many careers are at stake and I've just never felt that way in the recording studio, even with the engineers or the executives.
I think even the most jaded, meanest guy can get carried away by how much fun everybody's having in the VO space. It's such a great creative space, especially with all the tricks that people can do. I mean, why wouldn't you just completely celebrate that every second that you're in it!
Talk about the importance of being willing to say yes to an exercise and pivot when you're asked to.
Well it's our job, right? You have to do what you're told. You're not the creator, or the director. They've sat in rooms and talked about it and figured it out, and they know where it's going.
Usually the script is good and there's always good ideas that can be added, especially if you have a good director. Mary Elizabeth McGlynn is a very good director. She knows how to say what she wants in a way that makes it easier to give it to her. Andrea Romano is like that too.
Sometimes creators will sit in the room and have to learn how to talk to the actors and how to articulate what they want. Even though they know what they want, it can be hard for them to articulate it.
But either way, it's not for us to shove our vision on anyone else. We don't have a vision of the project the way they do. Our job is to accommodate the vision that's already been decided upon.
We're often recording alone too, so we have to depend on the pacing that has already been established. The punchlines and the areas of emphasis and stress. I'm like "Give it all to me and I'll do as best as I can". People hire you for the sound. They're not really hiring you to tell them more about their job.
"Auditioning is YOUR job, (and the Acting is free)".
If you're a student you can tune in to watch the entire 2-hour Class in your Class Archive, and if you're NOT a student but want to try it out – get a special offer here.